Nerobergbahn Wiesbaden
|| Home || First Visit || Second Visit || Technical Info ||
---
Technical Info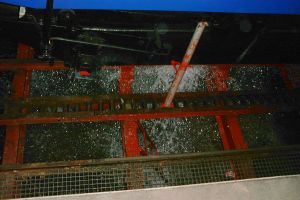 And how do they operate it? They pump water. From a top tank they fill the tank in the top waggon according to the passenger number, and for sure the tank is emptied again at the bottom station into another tank down there.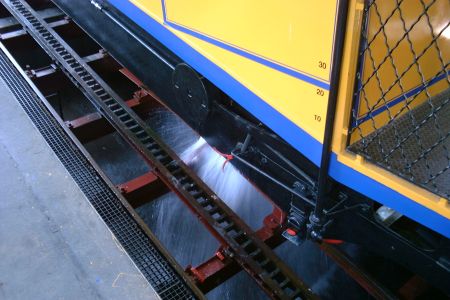 The water discharging at the lower station.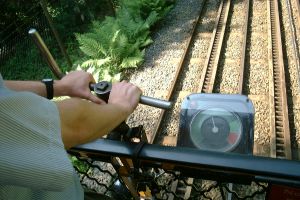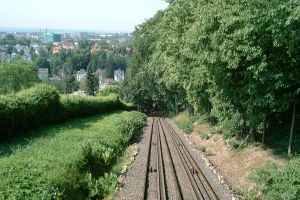 The brake with the compulsory hands on of the operator and the speedometer which is best kept at 12 o'clock. The centrifugal safety brake is released if the needle is in the red field.
The funicular is only operating from April to October, as the ballast water used to drive the cars might freeze in winter time. The funicular uses a 3-4-3 type track.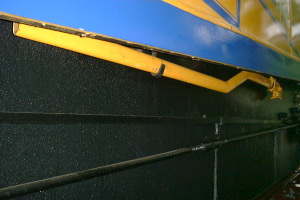 And in case not enough ballast water has been filled into the carriage uphill and the railway comes to a standstill, there is still a lever to push a waggon uphill beyond the steepest stretch. Then the situation usually improves and the waggons start to move again on their own.

Rumors have it that this happened once even with the tank filled to the rim. The top car being void of passengers, the bottom car was full with a party of farming wives on an excursion. Their combined weight was just beyond the value which would have allowed an eventless, continuously running operation.



Weight of a carriage 8,100 kg, plus a maximum water fill of 7,000 litres and 40 passengers. Time per run is approx 3 1/4 minutes.
The table gives technical details.

Last but not least I want to mention that the funicular has even an official page www.nerobergbahn.de.
---
|| Home || First Visit || Second Visit || Technical Info ||
---
Klaus Föhl - klaus.foehl@standseilbahn.de 2000-08-05