---
Standseilbahn in Künzelsau
---
|| Home || Introduction || Construction || Lower station || The line || Upper station || Goodie ||
The line
Map of the Standseilbahn in Künzelsau, connecting the town down in the valley with the 'Taläcker' development area up the hill. This was the board located downhill just underneath the bridge.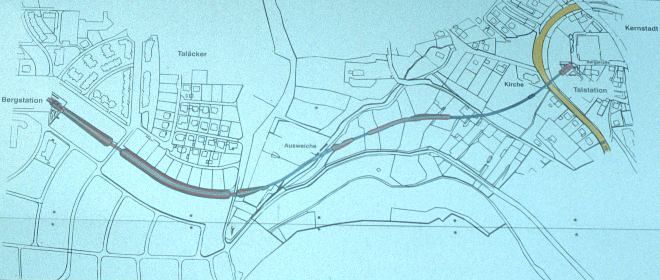 It starts first up the side of the valley, then turns right to pass through the a small burn. It is there where the passing loop is located at pretty much of half the distance. At the second right turn it enters onto the plane but still remains in a cutting where from it only emerges close to the upper station.
The first and steepest section of the line. Then the alignment enters a more secluded part. The following photos show the middle of the track in the cutting, and how the two cars manage to avoid one another at the passing loop.
Further uphill the line is no longer that secluded.
Passing through the last of two tunnels built in culvert style before approaching the upper station.

|| Home || Introduction || Construction || Lower station || The line || Upper station || Goodie ||
---
Klaus Föhl - klaus.foehl@standseilbahn.de 2000-05-23