---
Standseilbahn in Künzelsau

---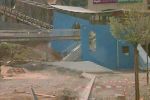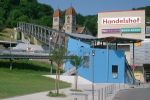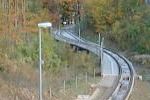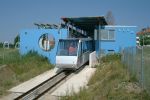 || Home || Introduction || Construction || Lower station || The line || Upper station || Goodie ||
Introduction

The town of Künzelsau in the south of Germany is placed within a valley cutting about 200 metres deep into the plain of the Hohenloher Ebene. It is there where a brand new funicular has been constructed during the course of the year 1999 and being inaugurated on October 3rd, linking the town itself with the Taläcker area.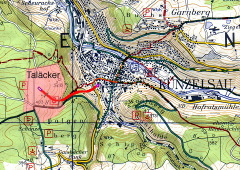 As space is at a premium down in the valley, construction was pushing up the sides of the valley, slope permitting, in the past. In 1990 Künzelsau decided for an important housing development up on the plane.
The place, Taläcker, was previously known for some tucked away grassland surrounded by forest. Although right on the edge of the valley, there was no direct connection, and still today's road link makes a significant detour through the Gaisbacher Rank which just shows at the bottom of the map.
It was decided that a funicular is the ideal means of transport to link this area with 2400 inhabitants to the town, and considerable political effort went into securing supporting federal funding necessitating even the change of an infrastructure law.
It has to be admitted that even before construction started there were mixed feelings among the native population with respect to the funicular. In the last years Germany has experienced a large influx of ethnic Germans from eastern countries, and cultural differences can be felt. Some 10 years ago one barely spotted Russian being spoken in the street. The new Taläcker development has got its fair share of these people, and as the funicular is seen to bring them down into our town, it also shares some of the envy towards them.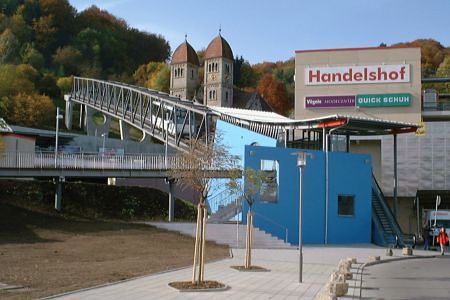 Finally, with an open day on October 3rd, the funicular was put into service. Service was suspended from October 29th to November 6th in order to switch to automatic operation.
Now as the funicular is in operation and the cars in their elegant light grey colour can be admired, perception may change for the time to come. The town has issued a leaflet describing and promoting the funicular, and maybe it is attracting some of tourist attention in the future as well.
The following pages explore the funicular, but there still is one long page available. There is a german version and a french version, too.
The page design was inspired by the Funimag pages of Michel Azéma.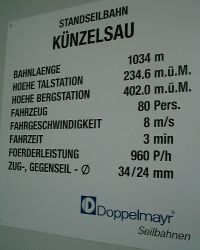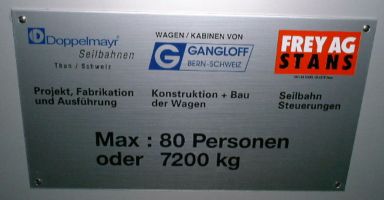 You find these symbols for the techical parameters explained 'chez Michel'. The table to the right is located inside the station building and gives technical details. The left sign is found inside the cars.

|| Home || Introduction || Construction || Lower station || The line || Upper station || Goodie ||
---
Klaus Föhl - klaus.foehl@standseilbahn.de 2000-05-23