---
Standseilbahn in Künzelsau
---
|| Home || Introduction || Construction || Lower station || The line || Upper station || Goodie ||
Lower station
Some of the photos below were taken 29/10/1999, when the extensive tests were performed. I was not aware that they have that many prerecorded announcements in case of service disruption. At last, on 7/11/1999, the funicular was back in operation and I finally could take a ride, and I took the other photos on this day.
The lower station and the fare machine. Fare is 3DM return for adults and 1.50DM for children. The funicular does run about every quarter of an hour. There may be breaks of half an hour twice per day - although operation is automatic, staff is still travelling on the cars (and may check your tickets). Of course it operates more frequently during rush hour.
An operating panel within the car which normally is hidden away from the passengers. The interior of the cars looks sleak, and you will pleasantly notice that the seats are heated. This is done in stations only, but they should not cool down rapidly during the journey.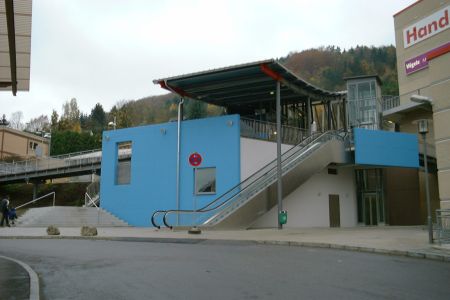 A car leaving the lower station.
On the left photo showing the station from a different angle one can see part of the big supermarket which does take advantage of its strategic location both on the passing road and near the funicular passengers, but also elevator and escalator which provide access in addition to the stairs and a bridge to the left.

|| Home || Introduction || Construction || Lower station || The line || Upper station || Goodie ||
---
Klaus Föhl - klaus.foehl@standseilbahn.de 2000-05-23